MTB & Road cycling
A classical mountain biking tour. You'll spend three days in the incredible beauty of two national park areas straddling the Czech-German border. Bohemian Switzerland reminds of the Alpine landscape with hills and forest bike paths.Great area for all passionated mountainbikers. And beside that wellness hotel with sauna after each demanding cycling day.
Price: from 485 €
Departures: 01. 05. - 31. 10. 2022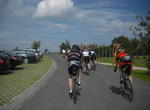 Curvy roads and steep climbs await you on this holidays. The starting point of each tour is in Decin, which is situated in the unique Elbe canyon and, at just 130 m above sea level, is the lowest-lying town in the Czech Republic. The town is surrounded by lovely hills, promising tough climbs up to elevations of 900 m. You can choose between two holiday scenarios. And beside that a lovely wellness hotel with a sauna for every relaxing evening.
Price: from 485 €
Departures: 01. 05. - 31. 10. 2022